motionEye is a great piece of software for controlling network cameras with a Raspberry Pi. With motionEye you can watch live video stream, detect motion, record images and videos.
Starting with version 0.30, motionEye can be configured to overlay buttons on top of a camera frame. These buttons will then execute custom commands when clicked. Thus, it is possible control to control a pan-tilt bracket or to toggle IR light for a PiNoir camera.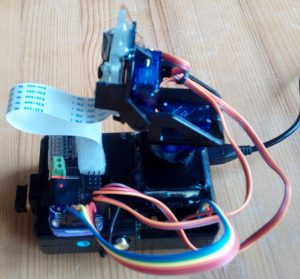 Here I mounted a PiCam onto a cheap (0.40 €) pan-tilt bracket with two SG90 servos from Aliexpress.
Continue reading Add action buttons to motionEye for controlling pan-tilt brackets →