Both the camera and the A+ were mounted underneath the roof. The light which reaches through the loophole in to the box isn't enough for a decent picture quality. Therefore I mounted four standard IR LED around the PiNoir camera.
Since each LED has an IF of 100 mA, they cannot be powered from the 3.3 V pin of the Raspberry. Instead, I used a LF33CV voltage converter and four BC547 transistors with 1 kΩ base resistors to drive the LEDs. The circuit was build on a small break-out board.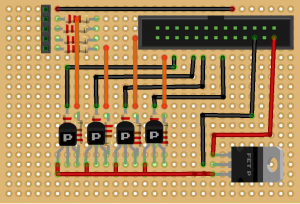 The LEDs have a VF of 1.3 V and thus require a 20 Ω series resistor each (on the board above I used 2 x 10 Ω for each LED; please note that the resistors are not correctly labeled).
The IR LEDs can be controlled using a simple Python script. It is planned to add a switch to motioneye. Meanwhile it turned out that two LEDs are enough for illuminating the interior of the box.
A nesting box that "twitters"
In order to receive notifications upon arrival of birds, I connected the nesting box to my Twitter account, using the Tywython package. To get started, I registered my application at https://dev.twitter.com/apps and grabbed my Consumer Key and Consumer Secret.
Then, I installed Twython via pip